Look for the LCR MSCP Birds on the River!
Hover over and CLICK each bird in its habitat to learn more about each bird! Hint: Three don't have circles.
The Bill Williams River
Welcome to the Lower Colorado River! Have fun exploring the ecosystems from the uplands to the marshes of this desert riparian landscape. Click on each bird to learn more about it.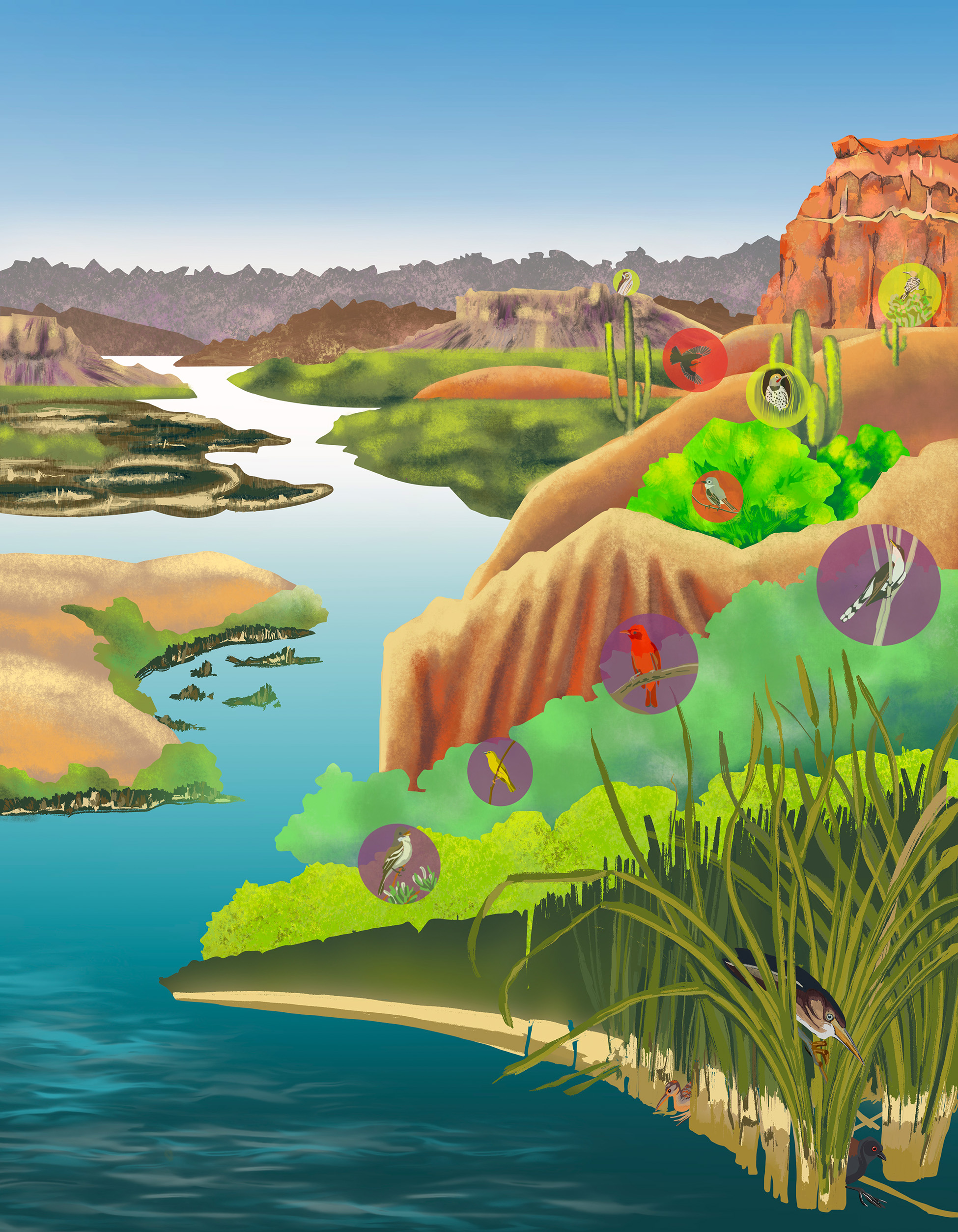 Vermilion Flycatcher
Yellow-billed Cuckoo
The Yellow-Billed Cuckoo is a migratory bird that winters in Central and South America and migrates north to breed in North America. It is often referred to tis the "rain crow" because of its reputation to call before summer storms. The Western Distinct Population Segment (DPS), which breeds throughout the Southwest and along the Lower Colorado River is threatened due to habitat loss.
The cuckoo has many a call, but this is the typical contact call. The females also solicit a COO-ing call often heard early in the morning.
Sonoran Yellow Warbler
Gila Woodpecker
The Gila Woodpecker is a charismatic woodpecker found in the Southwest Mojave and Sonoran deserts along riparian corridors or the uplands adjacent. They most often drill cavities in the saguaro cactus where they nest, although sometimes they make their home in trees as well. Their cavities are used by secondary cavity nesters such as Ash-throated Flycatchers and Elf Owls in following years, thereby creating crucial nesting habitat for other desert birds.
They sound a bit like maniacal clown when you hear their frantic sounding rising calls across the open desert. Their "churr" call here is a friendly little hello between a pair. 
Arizona Bell's Vireo
Summer Tanager
Gilded Flicker
California Black Rail
Western Least Bittern
The Western Least Bittern is a subspecies of the Least Bittern, a small, elusive marsh bird with a fondness for making its home in cattail marshes. Like other marsh birds, the Least Bittern is difficult to see and will freeze perfectly still to blend in with the reeds. Populations have been declining due to loss of wetlands.
Like most marsh birds, you typically hear them, but don't see them. This coo-like song reminds me of a Santa Claus trying to chuckle softly.
Photo by Bobby Wilcox
Yuma Ridgway's Rail
Southwestern Willow Flycatcher
The Southwestern Willow Flycatcher is a subspecies of the Willow Flycatcher throughout the Southwest and along the Lower Colorado River. Due to loss of native riparian habitat and expansion of Brown-headed Cowbirds (which hijack their nests by laying their own eggs in the flycatchers nests), they have been listed as Federally Endangered since 1995. 
Although it can be difficult to tell the different subspecies of Empidonax (flycatchers) apart, the Willow Flycatcher has a nasal-y "Breeeeet" and "Fitz-bew" call which helps confirm their identity.
Photo by Jarrod Swackhamer
Elf Owl
The Elf Owl is the smallest owl in the world and calls the Southwestern United States and much of Mexico home. Along the Lower Colorado River, Elf Owls nest in old woodpecker cavities in saguaro cacti and riparian woodland. They are listed as endangered in California. They rely on cavities previously created by woodpeckers, and therefore need older, more established riparian forests to breed.
Their chattery "Bop bop bop bop bops!" can be heard echoing throughout the uplands and river edges. For the smallest raptor in the world, they are very loud and conspicuous.